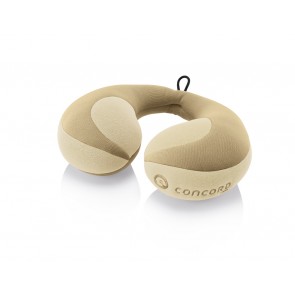 The Concord Luna Neck roll has been developed specifically to support a baby or young child's neck comfortably and safely, while travelling in a car.
Travelling in a car with a tired and fractious baby or young child, can be highly stressful and distracting for the parent driving the vehicle. Trying to get an infant to sleep when it cannot get comfortable is a taxing task. But a good well-made support that allows a toddler to gently lay its head back and drift off to sleep will make the difference between a stressful journey and one that is calm and quiet, allowing the driver to concentrate on their driving.
The Concorde Luna Neck Roll has been designed and developed to provide just that degree of comfort for a baby or young child.
Made with soft comfortable padding and a skin friendly outer, it has been designed specifically to eliminate physical discomfort for a toddler or baby while it is relaxing or sleeping during a car journey.
The soft padding it has been made with fits perfectly to provide vital neck and back support for the child.
For any parent or parents, who have to undertake car journeys with a baby or young child, this product is boon. They will no longer have to suffer the stress and strain of trying to placate a tired and irritable youngster, while attempting to drive at the same time.
The Lunar Roll has made it possible for a baby or toddler to relax and sleep in comfort and safety for the entire trip.