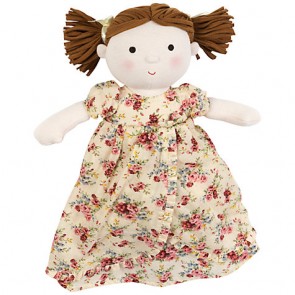 Grace rag doll, made by British company Silver Cross, wears a pretty floral dress and has lovely brown hair. She has cute pig tails which are tied with yellow ribbons and her warm smiley face with rosy cheeks makes her an ideal companion for even the youngest of children.
Bedtime Grace is revealed simply by lifting her daytime dress over her head. Her sleepy face appears together with her white cotton nightdress. She wears her hair in pink rags and has little closed eyes which should help to soothe a young child and give the message that it's time for sleep.
This Silver cross rag doll is approximately 40cm in length and is surface washable. She is also suitable from birth so would make an ideal new baby gift, particularly as she comes presented in a smart gift box.
Silver Cross is an established British company set up in 1877 and is well known for making prams and pushchairs, however, the company also manufacture nursery items such as furniture and toys. They focus on making quality traditional items and the Grace rag doll is certainly a traditional toy. It's high quality will ensure that it stands up to the rigorous role playing games of a small child.
It's wonderful to watch young children stretch their imaginations and Silver Cross Grace Rag Doll with her magical charm and loveability Will allow them to do just that.