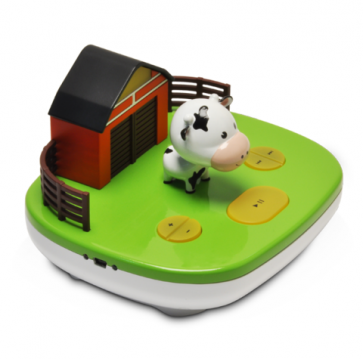 Tired of pulling the string of your musical toy every 30 seconds? Want to offer your baby better music quality, but don't want to leave your iPod in the baby's bedroom? Finally, BabyZoo is introducing the perfect product to create a magical bedtime atmoshpere: Coco, MP3 Music Player. The world's first digital music player especially developed for babies and young children. Whether you want to sooth your baby to sleep, or play bed-time stories for your toddler, Coco can do it all. Best of all, the music box has a built-in nightlight and timer so it automatically shuts-off.
How does it work?
You put your favorite music on any USB stick.
You put the USB stick in the music player and close the lid.
You put the switches of the player in the preferred position (nightlight, timer) and Coco is ready to play your music.
Features
A high quality speaker plays MP3 music files from any USB flash drive
An nightlight that turns on when the music plays
A timer function can be set for 10min, 30min or continuous
A volume safety button sets the volume to a safe maximum
A rechargeable battery as well as an USB charging cable is included
A shuffle mode
USB is completely hidden behind a lid. The space for USB is very big and fits almost any USB stick
Control buttons of the music player are lit when the nightlight is switched on, for easy use in the dark